---
Double Cropping Fundraising and Community Service Project
---
Since November of 1997, the Hunger Relief Fund for North Korea has employed a novel approach to fundraising and community service. Taking its name from the agricultural practice in North Korea and other places of growing two different crops per year on a single area of land, the Double Cropping project seeks to raise two 'crops' for the hungry through one effort. Volunteers help feed the hungry in the local community by working at food banks and dining rooms. At the same time, they ask others to sponsor their work, and use all the money raised to buy food and medical relief for the people of North Korea - much like a walk-a-thon.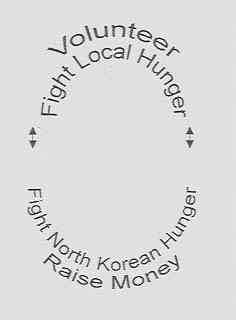 In the first stage of the project, from November 15, 1997, to January 31, 1998, over 100 volunteers worked at several Bay Area agencies, packing over 30,000 pounds of donated food and serving meals to thousands, while raising funds to send 36 tons of barley sees for hungry families in North Korea to grow - that's enough to feed over 4,000 people for an entire year! The effort continued at the San Francisco Food Bank on April 25, 1998, the World Day of Fasting for the People of North Korea. Now the Hunger Relief Fund looks forward to your help in continuing this project!

Daniel Mok and other Double Cropping volunteers prepare holiday food packages for distribution to the Bay Area needy at the San Francisco Food Bank. November, 1997

Volunteers from the Korean language classes of the University of California at Berkeley.

Marge Pak and Hye-sun Kim sort hundreds of pounds of donated food for redistribution to the local community - and keep on smiling!

Jiwon Kim and others from UC Berkeley's Committee for Korea Studies lend a hand on January 31.

Volunteers Hyunsun Oh, In-soon Lim, Key-young Burton, and Hunger Relief Fund Executive Committee member Nan Kim, January 1998.

Double Cropping volunteers with San Francisco Food Bank staff and volunteers after a day of work. December, 1997

To the left are some pictures from the first three months of our project. During this time, great contributions of time and energy have come from students of Korean language classes and other groups at UC Berkeley, exchange students and faculty from Korea, numerous church youth groups in the Bay Area, staff of the American Friends Service Committee and other non-profit organizations in the area, staff of a local Korean newspaper, and concerned individuals from as far away as Chico and San Diego. Thank you everyone!

Here's a little bit about where we've been and what we've done:


11/15/97
San Francisco Food Bank
Volunteers, including many from the national service fraternity Alpha Phi Omega, assembled and wrapped more than 11,000 pounds of holiday meal boxes for distribution to the over 300 service agencies supplied by the food bank.
12/6/97
San Francisco Food Bank
15 people sorted more than 3,200 pounds of donated food.
12/13/97
SHARE (Self-Help and Resource Exchange) food warehouse
Volunteers helped prepare for SHARE's monthly delivery of food to hundreds of host organizations that participate in its food-for-work program.
12/23/97
Family Crisis Center, Livermore
United Youth Ministries volunteers from the First Presbyterian Church sorted and packed holiday meals.
12/23/97
Glide Memorial United Methodist Church dining room, San Francisco
Served approximately 600 free lunches and wrapped 20 holiday hams!
12/29/97
St. Anthony Foundation dining room, San Francisco
15 people helped serve approximately 1500 meals, and participated in a discussion about the causes of poverty in the Bay Area and U.S.
1/10/98
St. Vincent de Paul Society's dining room, Oakland
Served 575 lunches
1/24/98
San Francisco Food Bank
30 volunteers, including 15 from UCB's Committee for Korean Studies sorted over 6,000 pounds of donated food.
1/31/98
Alameda County Community Food Bank (Oakland) and San Francisco Food Bank
Over 50 volunteers, including many from the New Hope East Oakland Fellowship sort and pack over 10,000 pounds.


For more information:

Contact the Hunger Relief Fund for North Korea by phone (510-645-9678) or email.
---
Back to Main Page